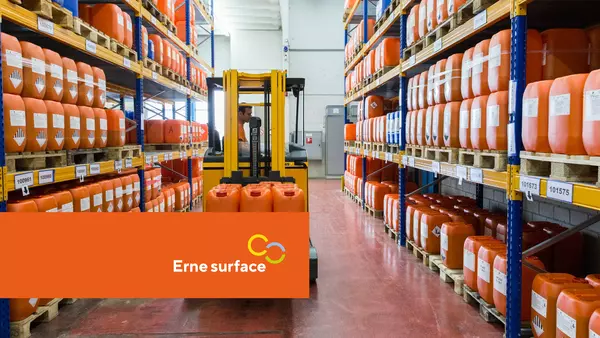 Erne surface AG neu bei Thommen-Furler Group
Wir freuen uns bekannt zu geben, dass Erne surface AG mit Sitz in Dällikon (ZH), per sofort neu zur Thommen-Furler Group gestossen ist.
Die 1936 gegründete Erne surface AG hat sich über die letzten 85 Jahre als führende Schweizer Anbieterin für chemische Oberflächenbehandlungen und Galvanik etabliert. Das breite Produktangebot wird durch den Anlagenbau und eine Reihe von Zusatzdienstleistungen wie Laboranalysen, Prozess- und Verfahrens-entwicklungen und Schulungen ergänzt.
Mit der Übernahme von Erne surface AG baut Thommen-Furler Group ihre Kompetenzen und Kapazitäten im Geschäftsbereich «Schmierstoffe, Reiniger und Oberflächenbehandlung» weiter aus.
Erne surface AG entwickelt sich durch das Zusammengehen mit Thommen-Furler Group zu einem Systemhaus für die Oberflächentechnik und Galvanik, das neu auch eine umfassende Entsorgungs- und Recycling-Dienstleistung, gepaart mit der bestens bekannten und voll integrierten Thommen-Furler-Logistik anbieten kann. Die Kunden und Partner profitieren ab sofort vom langjährigen und bewährten Geschäftsmodell der Thommen-Furler Group: «ChemCare® - Versorgen, Unterstützen, Rezyklieren - alles aus einer Hand!"
Über Fragen oder Anregungen freuen wir uns immer! Kontaktieren Sie uns - wir sind für Sie da!
Kontakt
Thommen-Furler Group, Franz Christ, CEO, +41 32 352 08 11, franz.christ(at)thommen-furler.ch
Kurzportrait der Thommen-Furler Group
Inhabergeführtes Familienunternehmen, über 13'000 Kunden, ca. 200 Mio. CHF Umsatz, 400 Mitarbeitende, 8 Betriebsstandorte, über 280'000 m2 Betriebsflächen, 170 eigene Logistikmittel auf Schiene und Strasse mit 3 eigenen Gleisanlagen, einzigartiges Geschäftsmodell ChemCare®, beinhaltend Chemikaliendistribution (Versorgen), Umwelttechnik (Unterstützen) und Sonderabfallentsorgung (Rezyklieren).
Standorte der Thommen-Furler Group
Thommen-Furler AG, Hauptsitz, Industriestrasse 10, 3295 Rüti b. Büren (BE)
Thommen-Furler AG, Zweigniederlassung, Hauptstrasse 9/11, 4417 Ziefen (BL)
Thommen-Furler AG, Succursale, Combe des Moulins 21, 2300 La Chaux-de-Fonds (NE)
Alcosuisse AG, Hauptsitz, Industriestrasse 10, 3295 Rüti b. Büren (BE)
Alcosuisse AG, Route de la Communance 58, 2800 Delémont (JU)
Alcosuisse AG, Schachenweidstrasse 2, 6105 Schachen (LU)
Spaltag AG, In der Luberzen 5, 8902 Urdorf (ZH)
Alab AG, In der Luberzen 5, 8902 Urdorf (ZH)
Recyplus Entsorgung AG, Rue Saint-Henri 2, 2800 Delémont (JU)
Erne surface AG, Industriestrasse 24, 8108 Dällikon (ZH)
×
ChemCare® - For carefree handling of chemicals, lubricants, industrial and hazardous wastes
The companies of the Thommen-Furler Group as partners for the procurement of chemicals and lubricants, for environmental technology and for the recycling of industrial and hazardous waste, offer you an integral solution from one and the same source that is not only environmentally sound but also extremely economically interesting.
Continue